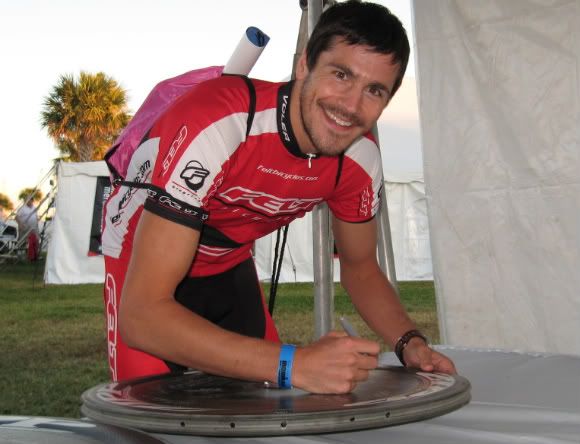 (Andy Potts signing the wheel in Clearwater, FL)
ZIPP Sub-9 Disc Wheel Signed by 20 Top Triathletes
Welcome to The Freedom Run Across America Charity auction, benefitting the Challenged Athlete Foundation, the Sunshine Foundation, Soldier Security Association and the Wounded Warrior Project.
Tom Knoll (75 years of age, 33 year Marine and one of the original 15 Ironman athletes from 1978) and his son Warren Knoll completed a 3,300 mile Freedom Run Across America. The charitable run began in San Diego on March 1st and ended successfully, July 4th in Washington D.C.
In order to continue fundraising for these worthy causes, Freedom Run Across America is auctioning a brand-new, ZIPP Speed Shop Sub-9 Disc Wheel, valued at over $1,850 and signed by 20 of the world's top triathletes including:
Recent Ironman World Champion, Craig Alexander (AUS)
Recent Ironman World Champion, Terenzo Bozzone (NZ)
Olympic Gold Medalist, Emma Snowsill (AUS)
Pro Triathlete, Andy Potts and more!
This is a one of a kind, once in a lifetime deal and will be a priceless addition to the winning bidder's collection!

Good luck!!!
ZIPP Speed Shop Sub-9 Disc Wheel Specs:
Used by Garmin Chipolte's Tour de France stars, David Millar and Christian Vande Velde, the ZIPP Sub-9 is the first disc wheel to produce negative drag!
- Zipp's Patented ABLC (Aerodynamic Boundary Layer Control) buldged rims provide optimum aerodynamics for the choosen rim depth
- VCLC (Visco-Elastic Constrained Layer Control) kills vibration, increases stiffness and responsiveness
- ICT (Inversion Composite Technology) improves the stiffness and strength of the Zipp wheel through continuous banding of unbroken radial fibers.
- M2CM (Multi-Material Co-Molding) provides the means to unify two dissimilar materials and is key in designing the best performing clincher rims.
- Carbon Bridge technology improves stiffness and impact resistance while reducing the weight!
- 700c only
-Tubular weight 1000g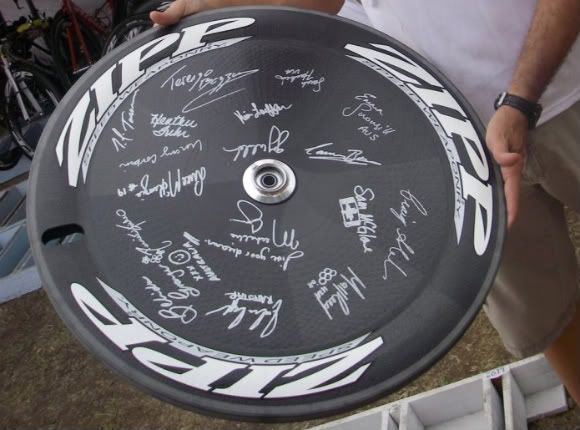 Terms Of Auction
Payment expected within 5 days of auction close.
Payment Types
Paypal is the preferred form of payment, and credit card payments can be made through paypal, even if you do not have a paypal account.
Shipping Information
Shipping within the U.S. is free. Outside the U.S., please email for a shipping estimate.